I write about crime. Murder. Serial killers.
I started as a journalist, investigating the 1989 unsolved abduction and murder of Amy Mihaljevic. Wrote a book about it. Spent years researching similar crimes across Ohio. I wrote a novel last year, The Man from Primrose Lane, about a reporter who tries to solve a murder only to discover the truth lies within the twisted history of his own family.
My favorite part of the job is when I've tracked down a suspect in a murder who still lives free and I get to go knock on his door. I get to tell him I know his secret and even though he's managed to avoid jail, I get to put his name in print for everyone to see. I get to scare them.
I once flew to Key West on my own dime to confront a suspect in the Mihaljevic case.
Yesterday, I dropped by a house on North Union in Alliance, Ohio. It's a two-story surrounded by a high fence, fortress-like. A handsome old man with wispy white hair lives there. He's the most dangerous predator I've ever discovered. His name is Keith Simpkins. He came outside to talk with me.
"Do you remember me?" I asked.
He crinkled his eyes and smiled but shook his head. "I should. I know that. I do know you. But I can't place it."
"I'm James Renner," I told him. "Last time you saw me I was a kid. I grew up and now I'm a writer. And I came by to let you know I'll be writing about you on Monday."
"You're Jimmy," he said, eyes wide.
I nodded. "I'm your grandson."
My mom thought her father was dead for many years. Before she was old enough to have many memories of him, he disappeared. The story was he died in a car crash on 7-hill road coming back from the bars. Her mom took her and her three sisters to live with family on a farm in the country south of Ravenna. Around the time she met my father in 1975, she discovered her old man was still alive and had started a new family in Alliance. She had two brothers and a sister she'd never met.
My aunt, "A," was twelve when she left the farm to go stay with Keith in Alliance. He gave A her own room and a new bike. She felt like a girl in a fairytale who finds out she's an orphaned princess. Keith was damn near perfect. Active in the church. A leader in the local Boy Scout troop. A mentor at A.A.
Six months later, Keith was raping her every day. He'd ply her with booze and pot and then tie her to the bed and gag her mouth so she wouldn't make a sound when it hurt. Sometimes it happened after school. But most times it was at night when everyone else was in bed. She could hear him coming down the hall because he whistled to himself on the way to her room.
On Saturdays, he would take A to Acme Hard Chrome (now Acme Industrial Group, on Freedom Street) where he chrome-plated metal, and rape her in his office.
Once, when A hosted a birthday party at the house, Keith went after one of her friends. The girl called her parents and left and avoided A the rest of the time she was at school.
"I turned him in to the school counselor at Stanton Middle," she recalls. "I showed the bruises all up and down my thighs. They called him and brought him into the room with me and he denied it. Said I was just a hood kid trying to cause trouble."
A's oldest sister tried to protect the others.  She'd made a pact with Keith that she wouldn't resist when he raped her so long as he never went after her younger sisters. She didn't find out until later that he lied to her too.
A couple years later, Keith started raping his daughter "V," too. V says she remembers how it was before he disappeared when they were toddlers. Back then, he'd been content just making her watch.
As a kid, I never knew any of this. My mother suspected, probably, but had no first-hand knowledge (other than the time he got drunk and told her in a strange voice how much she looked like her mother when she was young) and so I spent a lot of time at his house on North Union with my little sister. Holidays, mostly. Sundays for football on occasion. His kitchen always smelled like boiled hotdogs, or sloppy joes and coffee. We were never left alone with him. I still walk the layout of his house in my dreams, the framed painting of the man praying in the living room, the Saturday Evening Post in the bathroom upstairs.
I remember he had a dog that could talk. It said "Momma," and "I love you." Sometimes he would invite the older kids to watch marathons of Rocky movies in the basement and I couldn't wait for the day when he would invite me.
We were pen pals. He was a storyteller. He'd write me long stories, most of them funny, on tall sheets of yellow legal paper.
Then one day in 1989, my mother told me, simply, that my grandfather was a very evil man and that we would never see him again. The sisters, my aunts, had finally started sharing their stories with each other. And now their own children were old enough to catch Keith's attention and there were far too many of us to keep an eye on. They had to cut ties before he started raping his grandkids. And that meant they couldn't deny it anymore.
This revelation changed each of us in different ways. Most of us just had this weird empty spot in their family tree that was hard to explain to curious friends. Odd, but nothing tragic, right? My aunts, though, had to explain to their husbands why they were cutting off contact with their father. And that meant taking a good hard look at how fucked up their life was because of this one man. They were less able to assimilate this news because of the alcoholism, drug abuse, and physical deteriorations caused by years of the abuse Keith dealt to them. This revelation caused divorces. Mental breakdowns. A nuclear bomb had gone off, irradiating fucking everything. And the worst part was that Keith remained unharmed, clean, a respected member of society in the small town of Alliance. He even had the audacity to get sober.
But he never stopped his predation.
My uncle Michael lived with Keith back then. He was about 14 and I was 7 when I was still going over there regularly. Michael had a stop sign on his bedroom door which I thought was pretty badass (but, I realize literally as I'm writing this, how that sign was probably a not-so-subtle plea to his father). Michael taught me how to play Othello in his room one day. I thought he was the coolest.
Michael contacted me last week. I hadn't seen him in 24 years. We met over pizza at Luigi's in Akron. The dining room was full and it was hard to keep our discussion quiet. Several people looked over with shocked expressions during the course of that hour.
"His thing was to perform masturbation rituals on me, in my presence—orally stimulate my penis to force me to have an erection, that's how he would get me to have anal sex with him," says Michael. "His favorite location for these situations was in the basement of our house. There was a putrid blanket covered with dog fur that they kept in front of the door—that was our dog Rebel's bed. He would shoo the dog away and want sex there a lot. He concentrated in that area, would venture into my bedroom occasionally when the coast seemed clear to him. There were times that I knew my mother was in the house upstairs when this was occurring—I believe she was completely aware on some level that this was occurring, but was either too indifferent to my situation, or did not feel compelled to intervene.
Sometimes, instead of raping him, Keith would ask him to undress. Then he would beat him senseless. That got his rocks off, too.
"I'll never forget the rancid smell of his sweat, cheap hand cream, mingled with acrid smoke of menthol cigarettes he would smoke while masturbating. He has a very unusual body mark, or a scar on the tip of his penis that I remember vividly. It was very noticeable when he had an erection and since he frequently stuck it in my mouth, yea—I got a good look at it. The scar came out of the hole and down the head—just really weird.
"I remember being about age 14 when this was over, when I had considered castrating myself—I think I had the knife ready and was kind of looking for a way to commit suicide. That summer was rough for me, to say the least. I very nearly did it. But my story took a turn for the better—it was soon after that I met a girl and she showed me that I could be loved. She gave her heart to me and when I was with her, I didn't feel like a freak, I felt good about myself. She was my first love—gets complicated. But, that is the basic narrative."
Michael confronted his parents a few years ago after he had his second child. He told Keith he could still have contact with his grandsons but he would never be alone with them. Michael's only condition: Keith had to admit the abuse. His parents cut off all ties with him, instead. Then, years ago, now, Keith sent him a card. He had stage-four colon cancer and probably wouldn't live soon.
"Still trying to manipulate me," says Michael. "Still trying to control the situation, find a way to get me back."
"What side of the fence are you on?" my grandfather asked me on the porch of his house in Alliance.
I don't tell him that my five-month-old daughter inherited his red hair and that I have to think about him every time someone asks about it.
"You need to go away," I said. "But I was curious if you'd admit it first."
"I've done some terrible things in my life," he said. "But I'm in the church. I'm doing better. I'm a better man."
"Okay."
"This is a bad time for me."
"Would there be a good time for this story?"
"You don't understand, Jimmy. I just found out I have stage-four colon cancer. I probably don't have much time left."
"Would you do me a favor?" I asked. "Please write down everything you did so we have it when you're dead."
He nodded. "I've written some things already."
Last year, my aunt V contacted a police detective and tried to press charges against Keith. But some rich men have put restrictions on prosecuting rape cases in the state of Ohio. You've got to file within 20 years. Here's the thing, though—rapists screw up their victims so much it usually takes more than 20 years to get healthy enough to take them on. Even Michael's assaults took place beyond the 20-year threshold. But he still maintains contact with some of his children. And their children. And no one believes he's ever stopped.
We're concerned there are also victims outside the family.
I'm concerned because my grandfather exhibits a very special and rare combination of behaviors that are shared by the killers I like to hunt. He's a sexual sadist who enjoys not just the control he has over his victims but also the physical pain he administers through his rapes and beatings. He's highly intelligent and organized. And he knows how to manipulate children.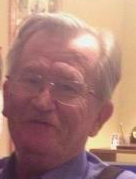 We have no pictures of him. He didn't like his picture taken. But he's always had the same fine head of white/red hair and a bushy red mustache. He would be about 75 years old, today.
UPDATE: Here he is.
If you have information that can lead to the arrest of my grandfather, please contact Alliance Police at 330-823-5383.
Posted in Uncategorized by admin on January 7th, 2013 at 6:42 am.