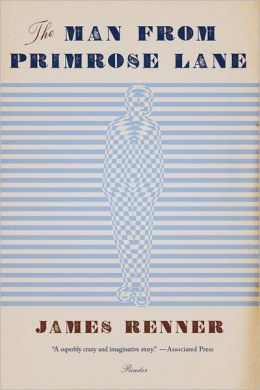 My debut novel, The Man from Primrose Lane, was released in 2012.
What's it about? Love. Murder. Time Travel.
An old hermit has been found shot to death in his Akron home, his fingers chopped off and fed into a blender. Retired journalist David Neff begins to unravel the mystery, only to discover that his dead wife is at the center of this strange cold case.
Praise for The Man from Primrose Lane:
Punctuated by moments of desperate tenderness, this unusually demanding and grim tale provokes troubling reflections on guilt and innocence, good and evil, revenge and redemption." —Publishers Weekly (starred review)
"The Man from Primrose Lane is a well-told story filled with darkness, horror, humor and surprising tenderness. And that's just the first part. There is a moment in this novel when the story moves in a way so unexpected I actually had to put it down and catch my breath. Go ahead, see what I mean. I'll wait here for you." —Charles Yu, author of How to Live Safely in a Science Fictional Universe
"The Man from Primrose Lane is one of those novels that will leave you torn: you'll want to read it slowly, in order to savor every scene, but you'll feel compelled to rush through the pages to discover what happens next. With uncommon skill and intelligence, James Renner weaves an intricate story of murder, abduction, and obsessive love. An incredible achievement—beautifully written and dazzlingly plotted, full of well-drawn characters and unexpected twists." —Harry Dolan, author of Bad Things Happen and Very Bad Men
"The Man from Primrose Lane is a haunting, wickedly clever book. Part Dennis Lehane and part Murakami, the twist of H. P. Lovecraft mixed in gives it a taste like no other. James Renner starts off his fiction career with a bang." —Jonathan Carroll, author of The Ghost in Love
"A thriller and a detective story, plus science fiction and romance with a little near-future dystopia thrown in…A superbly crazy and imaginative story." —Associated Press
"Well written…Ambitious and innovative…If you like your fiction tidy and predictable, look elsewhere." —The Washington Post
"Fascinating and unpredictable, with shades of Stephen King and HP Lovecraft as well as Douglas Adams, [The Man from Primrose Lane] never loses touch with the human story of loss, guilt and fate that is at its core." —Laura Wilson, The Guardian (UK)
"The Man from Primrose Lane barrels along, fueled by Renner's addictive storytelling….It's quite the interesting ride." —The Denver Post