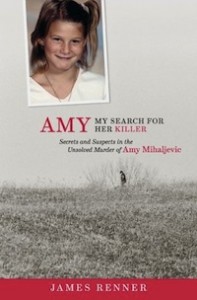 I have hunted the man who killed little Amy Mihaljevic, since I was eleven. My first book, Amy: My Search for her Killer (Gray & Co., 2006), introduces the main cast of odd characters and reveals the utter strangeness of this cold case. Now available as an eBook on Amazon, Barnes & Noble, and iBooks. My blog continues the investigation.
Traveling Northeast Ohio while promoting Amy's book, I learned of more bizarre tales of the macabre. This second book, The Serial Killer's Apprentice, a collection of feature-length true crime stories, chronicles 13 unsolved crimes, including one of the biggest successful bank heists in history and an "unsolved suicide." (Gray & Co., 2008)
13 strange-but-true tales of monsters, aliens, and secret societies of the Buckeye State are presented in this short work of nonfiction, It Came from Ohio.
Stories include the flying saucer chase of 1966, where a sheriff's deputy pursued a UFO all the way into Pennsylvania, an investigation into a private island on Lake Erie owned by Ohio's most-elite businessmen, and the truth behind the legend of the Loveland Frog, a local monster featured in my novel, The Man from Primrose Lane.