How true crime influencers are canceling their enemies and calling it "accountability."
By James Renner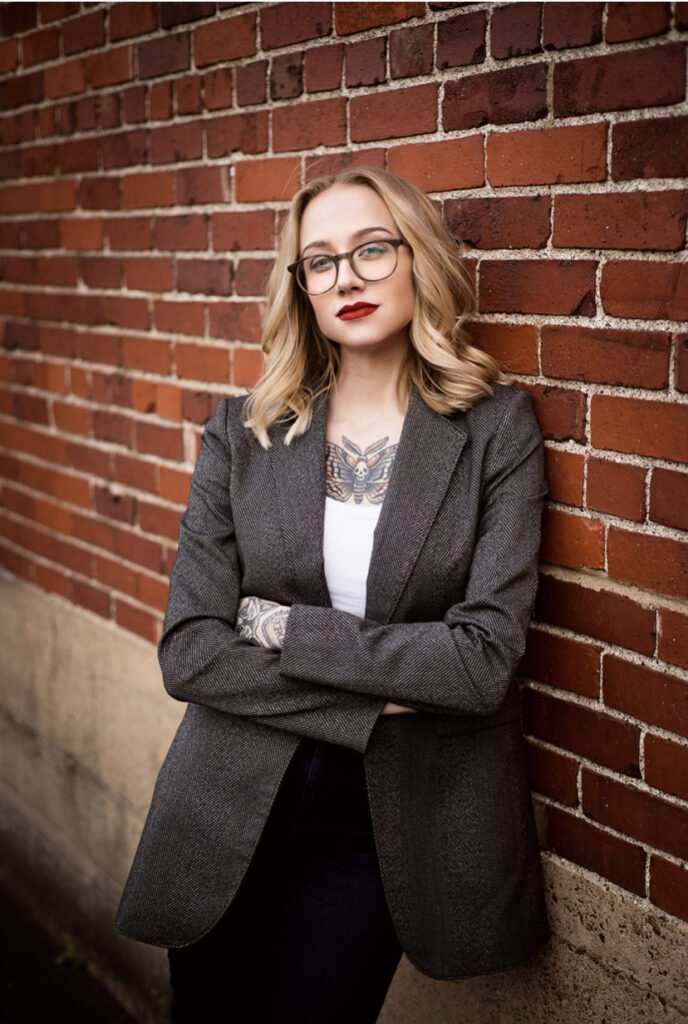 At first, and always, Emily Nestor is a believer. She believed Kim Davis when she said her daughter's death was not accidental and was compelled to create a podcast, Mile Marker 181, to share her story. And when Emily heard the allegations of harassment being leveled against true crime celebrity Billy Jensen, she believed those rumors, too. But the thing about Emily is, she's able to admit to change her mind, even when doing so makes her a target.
It was another true crime hero, Paul Holes, who provided her with some facts that changed her mind about Jaleayah Davis. Emily changed her mind about those Jensen rumors, too, when she discovered where they were coming from — the same small clique of social media influencers who made her life hell for a short time. And Paul Holes was wrapped up in that story, too.
"I was hesitant to talk about this because I knew there would be repercussions from my partner," says Emily, today. "And that was an important and large relationship in my life for a long time. I put his privacy and reputation before my own, before clearing my name and defending myself in any way."
But Emily's finally ready to tell her side to show how Jensen's accusers have a track record of harassment, twisted narratives, and physical assault.
I first met Emily Nestor at a true crime festival in Chicago some years ago. She reminded me of the character Clarice Starling, a petite, powerful young woman loudly trying to establish herself in a field that was still predominantly run by men at the time. In fact, Emily sports a tattoo just below her neck of Acherontia atropos, the death-head moth that appears in Silence of the Lambs. She knows true crime cases inside and out and can talk a mile a minute about the minutia of serial killers.
The past few years have hardened Emily. You can hear it in her voice and see it in her physicality — she's ripped, now, her face has narrowed, her arms covered in tattooed sleeves. She recently moved to the deep south, where she works nights as an exotic dancer. Looking back, she can trace a lot of her troubles to the very same night that landed Billy Jensen in hot water — the night of the Death Becomes Us true crime festival in New York City, in March of 2019.
Emily first reached out to Paul Holes to get his expert opinion on the Jaleayah Davis case a few months before that. Jaleayah's story is tragic — on November 19, 2011, the twenty-year-old went out for a night of drinking with friends. At 3:23 a.m., she called her sister to come pick her up at a gas station — she could be heard fighting with her friend on the other end, demanded that she give her car keys back. A test would later show that Jaleayah's blood alcohol level was .24 at the time. She was very drunk. Twenty minutes later, Jaleayah's mangled body was found on the highway, her car against a guardrail, still running, doors locked, headlights on. The family believed it was foul play from the beginning — pointing out that three of the people with Jaleayah that night were relatives of local police officers. But the West Virginia Medical Examiner's Office ruled her death accidental and a police investigation stated she'd been ejected out the window after crashing into the guardrail while driving drunk. At the time, Emily was firmly in the police cover-up camp.
On New Year's Day, 2019, Paul Holes, sent Emily a detailed power point that presented his examination of Jaleayah's accident along with his professional opinion — that Jaleayah death was, indeed, nothing more than a tragic accident after a night of drinking and driving.
"I had to process that," she says. "I figured, well, Paul just doesn't know about all this circumstantial evidence that we have. He just doesn't get it." She hoped to present a better case for conspiracy when they had time to talk at the Death Becomes Us festival in New York that March.
The convention was organized by event planner Jenn Tisdale, who brought together the biggest podcasts in the country along with well-known guest speakers, including Amanda Knox, profiler John Douglas, Damien Echols, and Paul Holes, one of the detectives who'd brought down the Golden State Killer and ushered in the age of genetic genealogy.
At the end of a day of panels and networking, Emily invited Paul and Billy Jensen out for drinks. Paul met her outside the hotel in Manhattan. She asked where Billy was. According to Emily, Paul waved his hand and said, "He's at the bar with Jenn." Her first inkling that something was up with Jenn Tisdale came the next morning when, says Emily, Paul warned her that she needed to be careful when she left his room because Jenn was staying on the same floor.
Emily met up with Paul again in early May to discuss the evidence in Jaleayah's case in greater detail. She still thought she could convince him that it was a coverup like the family believed. She says Paul explained to her how everyone has skeletons in their closet that might look like evidence of something sinister in the event of their death. "He said, 'For instance, if you died tomorrow, they're going to look at me. But when it comes down to it, this is not a homicide, so that stuff doesn't matter.' That is where I started to pivot from the family's story," says Emily.
It was around this time that Emily got a DM from Jenn Tisdale on Instagram. "By the way, Paul has slept with so many women," it read.
"Whoahhh. Hi what?" Emily replied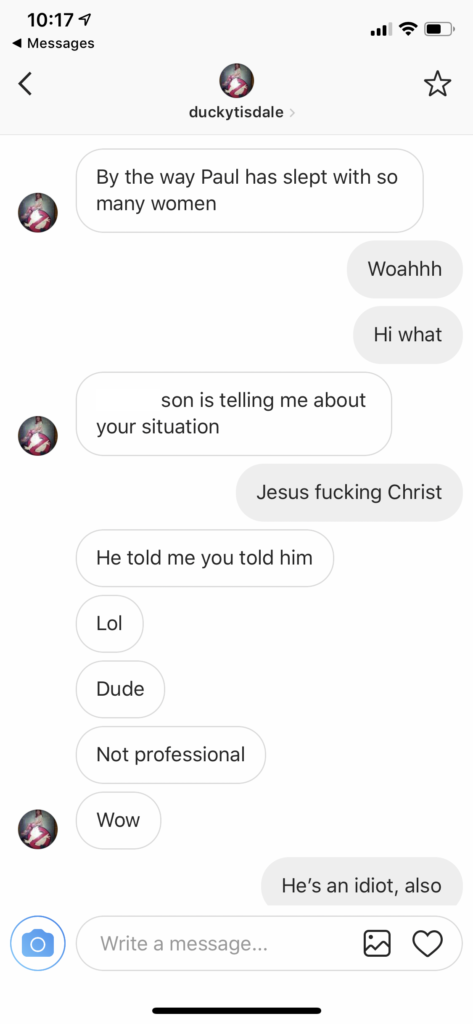 Jenn told her that the son of another famous law enforcement official had told her about Emily's relationship with Paul. Emily knew the man in question. They'd met at the convention and since then, according to Emily, he'd sent her flirty texts, including shirtless pictures and the ubiquitous eggplant emoji (she took screen captures of some of these messages).
"Not professional," Jenn continued. "Paul confirmed. You're so sad. Good luck. Lol."
"I'm not sure where you have any right to judge me at all," wrote Emily. "But ok."
A short time later, Paul texted Emily: "I have Jenn Tisdale calling me in a drunken stupor, saying you are leaving your husband and I'm leaving my wife for us to have a relationship. Give me some reassurance this has been twisted up."
Then came the anonymous tweets and Reddit posts that accused Emily of having an affair with a married man. Some of the tweets tagged the rival CrimeCon convention (Emily had announced she would appear at CrimeCon in New Orleans that summer). "This girl fucked Paul Holes," it said, simply.
Emily sent screenshots of Jenn's Instagram messages to her boss, Svetlana Legetic, who apologized, personally.
"I spoke to Jenn yesterday evening about how this is inappropriate and how none of this is our business," wrote Svetlana. "She apologized and promised me she will not engage on a personal level with you or talent/guests but maintain professionalism through and through."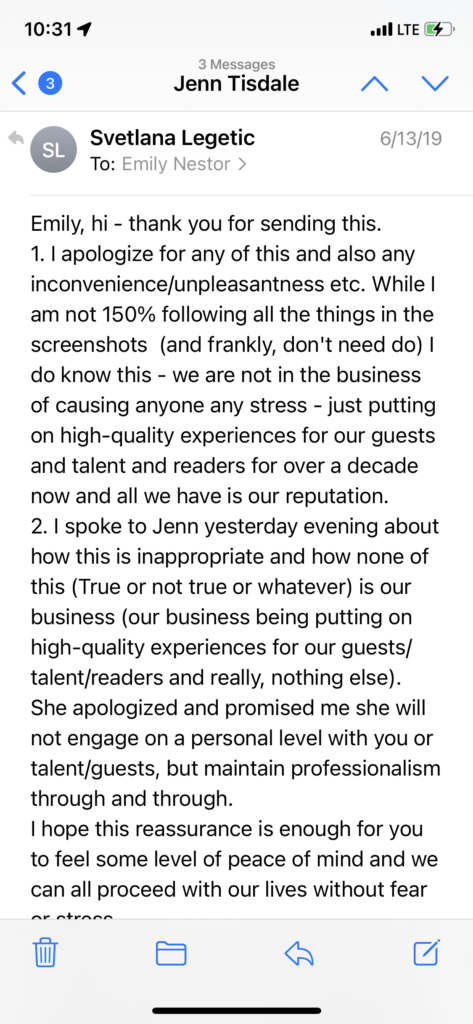 And, for a while, things were quiet.
The anonymous messages started up again in the fall. One-star reviews for her podcast, that were pointed and personal. "You're an interloper," one said. "You work at a doggy daycare and are flying other places to have an affair with a married man. She's living with her brother and not paying rent."
Only a few people knew that she had been staying with her brother. Celene Beth Calderon-Olsen was one of them and she was the first person Emily thought of. Celene Beth is a podcaster, host of The Chosen Ones. She and Emily had bonded over personal projects in the true crime space — both had documentaries in the works at various stages of development. When Emily asked Celene Beth if she'd left the review, she got defensive, Emily says. "She tried to tell me Paul's wife had written it."
Emily knew that someone close to her was betraying her trust. But she also knew that she couldn't defend herself without hurting Paul Holes. So she stayed quiet.
"The only way I can describe how it felt would be like to have your hands tied behind your back and you just let them punch you in the face," says Emily. "When you're a part of a cancelation spectacle, you're not allowed to defend yourself. Because then it appears like manipulation or lies or victim blaming or whatever. So that's what it felt like."
Then, in November, Emily had a very public falling out with Kim Davis, Jaleayah's mother. The family had taken Emily to see the car. They still had it in a storage bay. With Paul's voice in her head, she saw everything in a different light. "I'm looking at the car and I realize this man might really be right," she says. "And if Paul is right, I need to figure out how I'm going to own up to it." She went public and said she believed Jaleayah's death was a tragic accident and that was something Kim didn't want to hear. And instead of hashing it out in person, both sides took to social media to air their grievances.
More anonymous posts popped up on Reddit after that.
"She lied to victims, lied to the public and told everyone she was Paul's mistress," one read. "He still went on her show. He still won't unfriend her on Instagram."
Another said: "The 181 host is a liar and narcissist who screwed over the family and is now a part time rent a cop/part time stripper who makes Insta stories about cancel culture."
"There is a ton of info out there, like how they once spent 4 days in a hotel in West Virginia."
"Why are so many people staying quiet about this?"
"Did you say something to Jenn recently to piss her off?" Emily asked Paul over texts.
"I'm ignoring her," Paul replied. "I'm sure that is not sitting well."
The constant cyberstalking prompted Paul to file a formal complaint with the Denver office of the F.B.I. The complaint names both Jenn Tisdale and Celene Beth.
Emily's reservations about Celene Beth were well founded. She'd given Celene Beth a Google drive link to an unpublished interview she'd done with Paul. And at 5:13 a.m., the morning of January 23, 2020, Emily got an alert that Jenn Tisdale had tried to access that file. The only way Jenn could have gotten that link, says Emily, is from Celene Beth.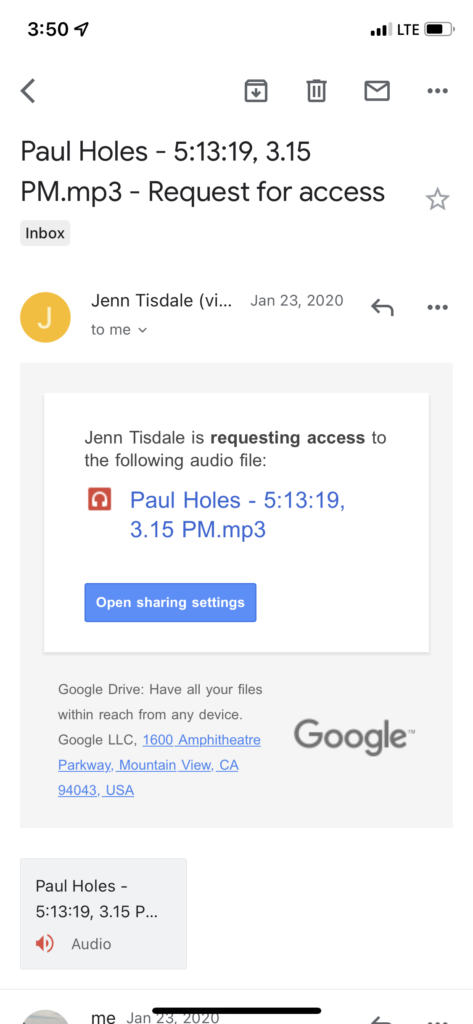 After that, their feud with Emily became more public. When Emily said Jaleayah's death should not be equated to the murder of George Floyd, Celene Beth took to twitter to attack her former confidante: "If you're supporting BLM and the murder of George Floyd BUT still support Emily Nestor, please do me a favor and unfollow me."
Emily now looks back at her friendship with Celene Beth and wonders if it was ever anything more than transactional. She regrets participating in the private text chains she was in with Celene Beth and fellow podcaster Sarah Cailean, in which the women would belittle other female podcasters like Ashley Flowers. In one thread, someone posts a picture of an advertisement Ashley Flowers had done for a mattress company. "What, is that Ashley?" wrote Sarah. "YUP," wrote Celene Beth. "I don't want to be that girl but, is plagiarism a carb?" Sarah replied.
It was around December that Emily first heard of the initial sexual harassment allegation against Billy Jensen. A woman who worked on the Jensen & Holes Murder Squad podcast alleged that Billy had drunkenly grabbed her ass while hugging her at a company Halloween party. Emily suggested to Paul that he cut ties. "I'm no Billy Jensen fan," she says.
But then she listened to Jenn Tisdale's podcast, in which Jenn made her own allegations against Billy relating to an encounter she had with him that night at Death Becomes Us when Emily had gone out for drinks with Paul. And she read the Rolling Stone article, in which Celene Beth and Jenn Tisdale were featured and she recalled Celene Beth telling her how she wanted to have sex with Billy, that she would "climb him like a tree." And so, Emily began to have doubts.
To date, these are the allegations that have been made about Billy Jensen, which Celene Beth has publicly categorized as sexual assault and sexual battery:
An unnamed coworker alleges that Billy Jensen drunkenly grabbed her ass while hugging her at a company Halloween Party. Celene Beth alleges that Billy touched her head at a bar without consent. Most alarming is the account given by Jenn Tisdale, who alleges that Billy slapped her in the face at her festival after she came to his room.
Billy has vehemently denied that he slapped Jenn. After she made the claim on her podcast, Billy released a statement on his website and presented a series of texts that Jenn had sent him afterwards.
Billy did admit that they made out. He says Jenn took her shirt off but he remained clothed. He was in an awkward position — Jenn had brought him to the festival. He was her guest. She was very much in the power position at that moment, and in the months and years following she continued to proposition him, even while he kept reminding her they needed to stay professional.
Two months after the alleged slap, she sent Billy a text: "So I had dinner with a friend and I just got back to my place. I'm sure you will reject this idea of coming here before you crash but if you wanted to stop by that's cool. PG-13."
"Yes, that's not a great idea," Billy responded.
"I'm gonna give you the address in case you change your mind," she wrote back.
Later, Jenn seemed to realize that she overstepped a line by becoming intimate with the guests she brought to her festival. "Do you think being friend with talent is bad?" she asked Billy. "And I don't mean the kind of friendly I had with 'you-know-who.' That kind of thing will never happen again. I've just always been friendly and it serves me well but is that okay in my position?"
A year later, she was still texting Billy suggestive comments. "Regarding your most recent IG post… too many women are jerking off to that photo."
Nowhere in their voluminous messages is a slap ever mentioned.
And it's a weirdly specific thing for Jenn to allege, because she was charged with assault in 2013, for slapping a teenage boy she was dating at the time. He was nineteen, and an up-and-coming stand-up comic. She was thirty-three. One night, after drinking, he was driving her home and she became belligerent, angrily throwing items out of the car window. When they stopped to retrieve some of these things, she got physical and began slapping him. A woman who was walking her dog spotted them and tried to intervene. Jenn slapped her, too. Jenn was arrested later that night and charged with simple assault and domestic violence. According to court records she was allowed to enter into a diversion program and after completing it, the case was dismissed.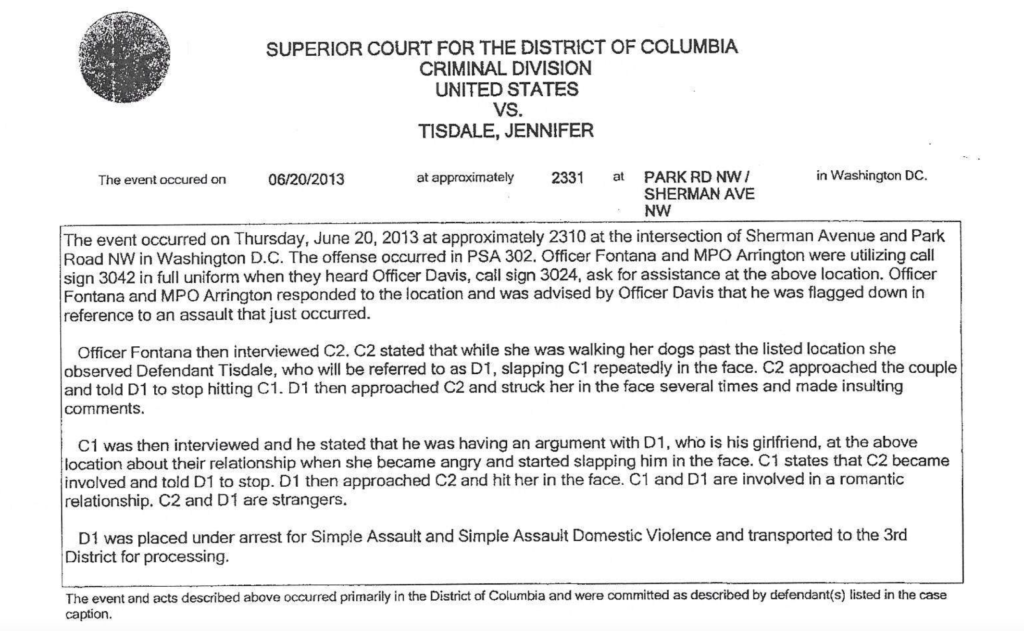 "I couldn't listen to her podcast for several weeks because I knew it would be triggering," says Emily. "As a woman who'd been sexually assaulted I still wanted to give her the benefit of the doubt even though this person has caused me a lot of grief and a lot of problems. But then once I read Billy's statement and saw the text messages it reminded me of a lot of the things I'd processed and how intense the harassment was. And how she'd already lied about me in a big way. If she did it with me, she's capable of doing it to Billy, especially if there's spite."
The news broke on May 20: the Jensen & Holes podcast was ending. The stories about Billy Jensen were leaking on social media, through the same whisper network of anonymous posts that once targeted Emily Nestor. Publicly, Celene Beth announced that she was now an advocate for Billy's unnamed accuser. She appeared on a podcast to talk about ethics in crime, with Sarah Cailean. And Jenn chimed in on Twitter. Many readers of the recent Rolling Stone piece may have been under the impression that these women were strangers with separate stories but actually they are a group of friends that have targeted others before and after with similar narratives.
Paul Holes texted Emily that day, stressed about the canceling of his show, of course, but he was also concerned that the documentary being produced about Mile Marker 181 might "out" their relationship. "OK. I'm pissed," he wrote. "I also care about you. I just don't know if I can trust you. Do NOT respond to this text. At some point in time I will send a zoom link and we can talk. I don't know when that will be. I'm embarrassed by what happened. I have the power of my talent agency and attorney on alert. I suspect you are a pawn in all of this but… DO NOT respond to this. I'm far beyond putting anything in writing."
Emily has not spoken to him, since.
Since the publication of the Rolling Stone piece, Celene Beth has leveled claims against yet another true crime celebrity.
"Recently, I made the decision to say my Billy Jensen story was not shared in its entirety and another individual was involved," she wrote in a recent post on Twitter. "I've decided to share the rest of my story for transparency purposes but equally as a lesson in boundaries and trauma responses. After the forceful hug of Billy's and several attempts to play with my hair I removed myself and sat elsewhere."
Celene says that Billy then pointed her out to Ben Kissel, host of Last Podcast on the Left. "While the things Billy was saying were positive, I immediately got a negative impression and started feeling uncomfortable. It was almost like a bizarre, aggressive, semi-rehearsed 'wing man' speech. I cannot confirm or deny that's what was happening but something felt off."
She goes on to say that Kissel asked her what her plans were and she told him that she was going to go to take an edible and go to sleep. He asked if he could have an edible, she claims, and she offered him one. But the edibles were in her room so he followed her upstairs.
"Still unsure about his motives, I continued on my mission of getting edibles to Mr. Kissel and Billy. We got to my room and I said, 'You can wait here and I'll grab it,' She says he came in and waited in the door to the bathroom. And though he presented no aggressive behavior, she writes, "I was terrified, scrambling to open the bottle. I took 2 edibles out and walked over to him and handed one over." He walked out of the room then. Or as Celene Beth describes it, "He then turned to the door and opened it to walk out. As he's walking away, he is visibly annoyed with me and I said, 'nice meeting you' and he continued walking to no acknowledgement."
Kissel never attempted to contact her. Several months later, they appeared on a podcast together and Kissel didn't even remember Celene Beth.
When she posted the allegation, she also acknowledged she'd never expressed to him her discomfort: "Yes I could have spoken to Mr. Kissel directly about this situation but it was made clear to me that he had no recollection of that evening." It remains unclear what effect Celene Beth's public condemnation of Kissel, which amounts to an imagined expectation on his part, will have on his reputation and podcast. But now that Rolling Stone has used her as a source, these allegations have been given credibility that may not be earned.
Rolling Stone knew about Emily Nestor and the disturbing behavior of the accusers prior to publication.
"I find it ironic that this particular group of people are setting themselves up as having the moral high ground," says Emily. "Celine Beth continues ride the Ted Bundy wave. And then there's Jenn, who is a domestic abuser and harasses and slut shames other women. It's ridiculous that these are people that anyone in true crime would listen to. I know who these people are and what they do. They're very good at making smoke from multiple locations and saying there's fire everywhere. I don't even think true crime should be a thing, anymore. I think once you see how the sausage is made, you'd want to be as far from these fucking people as possible."
James Renner is the host of the podcast, True Crime This Week and author of True Crime Addict. Inquires: jameswrenner@gmail.com
Further Reading:
A sampling of Celene Beth's tweets
A sampling of Jenn Tisdale's tweets
Author's note:
Efforts were made to contact every person mentioned in this article. Jenn Tisdale hung up when Billy Jensen's name was mentioned. Celene Beth took to Twitter to tell her followers that she was declining to be interviewed. Sarah Cailean did not respond for comment. Ben Kissel did not respond.